Maryland Vascular Specialists announces Samer Saiedy, MD named to "Top Doctors" list by Baltimore magazine
---
Dr. Samer Saiedy, Maryland Vascular Specialists, was honored among Baltimore's 'Top Doctors' in a ranking by Baltimore magazine. Dr. Saiedy was selected as an "outstanding metro-area doctor" for the specialty of vascular surgery in the November 2016 issue.
Physicians in more than 100 specialties were chosen by approximately 12,000 peers within the greater Baltimore region as the best in their respective fields. In the online poll, physicians were asked to consider where they would send a family member in each of 76 specialties, and most doctors agreed on who is the best: The survey revealed clear winners, including Samer Saiedy, M.D.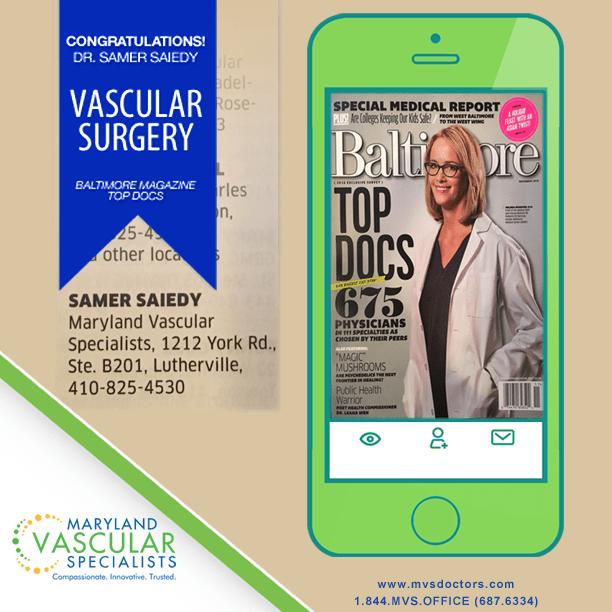 To develop the "Top Doctors" list, Baltimore magazine sent sample ballots to the medical community announcing the Top Docs voting process and its secure voting website. Doctors from all over the Greater Baltimore region voted online for the most esteemed physician in his or her chosen field.
Dr. Saiedy is a distinguished vascular surgeon who is a nationally renowned expert in anterior lumbar interbody fusion (ALIF.) Additionally, he is a Fellow of the American College of Surgeons (FACS). Dr. Saiedy earned his medical degree at West Virginia University School of Medicine and a Fellowship in Vascular Surgery at Arizona Heart Institute in Phoenix. He is an active member of the Society for Vascular Surgery, Eastern Vascular Surgery and the Chesapeake Vascular Society.