Leg Pain Is Not Just About Aging
For the last few years, Barry Hugheshad been suffering from leg pain. At first, he thought that the cramping and discomfort in his legs were just due to old age. But daily life was becoming difficult for him. Over time, he found he was unable to do the things he enjoyed like, gardening and going on walks with his wife. He had to quit his job in sales because he just couldn't move around like he used to. It was a big disappointment for Barry and his family.
"It was sheer willpower to get around and do what I was doing," he says.
The Wound That Would Not Heal
                                                                                       Photo by Anna Shvets from Pexels
Barry did his best to continue despite the pain that he felt. One day when he stubbed his foot, it seemed like a minor injury, but after 6 or 7 weeks, the wound had still refused to heal. It was then that Barry knew something was wrong. Finally, he decided to reach out to Maryland Vascular Specialists (MVS) and he is so glad that he did.
Barry Chooses MVS
Doctor Sam Saiedy, MD was able to help Barry discover the cause of his leg pain problems. The doctor told him that he had no circulation in his left leg, and his right leg was at 80% of its usual blood flow. Barry learned that he had Peripheral Artery Disease (PAD). PAD is a disorder that puts your organs and limbs at risk, by restricting blood flow that nourishes the body's pathways and systems.
Fortunately, He Didn't Wait Too Long
Even though Barry had quit smoking years before, and didn't suffer from diabetes, he was still at risk for PAD. Luckily, the team at MVS caught the problem just in time. "My foot was in such a shape that the doctor told me I could've lost a foot. I was shocked," Barry recalls. He was grateful for the honesty and excellent care provided by the staff at Doctor Saiedy's office.
A Successful Surgery
Barry scheduled an outpatient procedure with MVS. "The surgery was quick, easy, and relatively painless," he says. In fact, the pain subsided almost immediately after the surgery. And Barry's leg was completely healed after a week or two.
300 % Better
After his recovery, Barry got his life back. "I feel 300 percent better," he says. Barry found that he was able to do many of the things he hadn't done in years; he could work in his garden again, and go on long walks with his wife. Because of Doctor Saiedy, his team, and the successful in-office procedure at MVS, Barry was able to keep his foot, and significantly increase the quality of his life.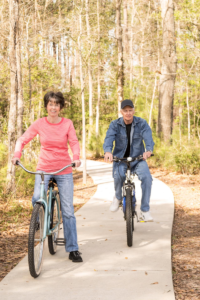 Do You Have Leg Pain Like Barry?
Have you lost your ability to move around? Has your life been affected by leg pain? Maryland Vascular Specialists are here to help. MVS offers the best in vascular care to our patients, plus we have many convenient locations throughout Maryland and southern Pennsylvania. We employ modern non-invasive diagnostic procedures with highly accurate results. We pride ourselves in providing patient-centered care. If mobility is a problem, or you need assistance with transportation, MVS is happy to arrange transportation to our office.
PAD affects 18 million Americans. This disorder reduces circulation to the limbs, which can lead to amputation of the fingers, arms, toes, feet, and lower legs.
For more information on PAD download our free e-book here.