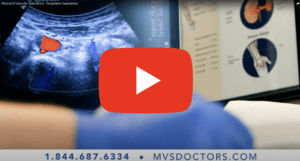 We invite you to experience one of our premiere outpatient facilities equipped with the most advanced technology and the highest caliber of patient care. We offer arterial treatments for P.A.D (Peripheral Arterial Disease) as well as minimally invasive venous treatments. In addition to multiple treatment options, our outpatient facilities offer the comfort of private prep/recovery rooms, convenient parking, and one bill with multiple payment options. We accept most major insurances and work with your referring physician to make your experience a simple one.
Why Maryland Vascular Specialists?
Cutting edge minimally invasive outpatient treatments.
Treat thousands of patients across the region each year.
Charge less than a hospital while providing the highest level of care.
To schedule your consultation please call us at (844) 687-6334.